Teaching remotely is an entirely different experience that requires a different skill set. The home environment is filled with distractions, keeping students engaged and motivated requires effort on your part as a teacher.
How can you involve your students when teaching online? What strategies can you use to keep students motivated? How can you make math appealing when teaching online? These are a few questions we would like to consider.
How To Involve Your Students
The pandemic has changed the way we conduct our lives, developing teaching skills for hybrid or blended online learning is imperative. Keeping students involved in the classroom is a challenge of its own let alone in a remote setting. A teacher can develop a number of essential skills when teaching online. 
The primary factor teachers should consider is to be present. Being present does not only involve showing yourself on screen. It is about creating an environment where you are available, helpful, and understanding. Exerting yourself to assist your students will make them retain knowledge and improve their math study habits. 
Personalize the study material by adding or creating notes or instructional videos. Make students take breaks or practice stretch-outs every now and then, this will improve their overall attention span. Show interest in them by asking personal questions. Finally, make turning cameras a rule during lessons, it's important for your students to see you and interact with you.  
Strategies To Motivate Students
Learning math online can be challenging, but with a bit of effort and time on your part, students will like the subject. To motivate your students, set attainable goals and make your students reach them. Long-term goals are not necessarily effective, start with simple goals like playing riddles or games to practice math online. 
Teachers could use positive reinforcement by rewarding students when they answer correctly or finish a task. That can be especially challenging in an online setting. Nevertheless, you could use incentives like mailing your students a notebook, calendar, or a fun comic book. Reward them for activities and include games to practice math.
Find out what inspires your students. Whether you are teaching in-person or online you can utilize the same techniques in a real-life classroom. Try different methods of teaching, play music, or fun math games with your students that can create a pleasant atmosphere in class.
Try to break down lesson plans and make them appealing, this involves staying away from long explanations and slides. When teaching online, share the best math websites along with other math online resources. You can also split math problems into digestible bits of information and share homework, notes, and classroom activities on a virtual plan board. 
Teachers can create opportunities for interaction by incorporating group work. Group work improves a student's skills and cooperation. Children tend to learn better in groups, being part of a group motivates students to complete assignments and puts them at ease with their classmates. 
When conducting group activities describe the task and let students choose their roles. To foster collaboration, create a digital whiteboard for projects to enable students to work together. This gives you control over their activities and ensures active teamwork among all students. 
Isolation can demotivate your students, to counteract that make your students feel valued. For example, try learning their nicknames or their favorite hobbies and give them regular feedback on their progress. 
How To Make Learning Math Online Appealing
To learn math online there are several strategies you could employ. With the advent of online learning students who find math challenging will find it even more difficult. Your role as a teacher is more critical than ever in ensuring a subject like math is appealing and understandable.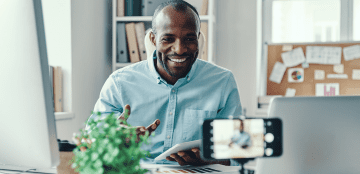 Teachers can engage students in a virtual math class by including a number of math apps and games to practice math. To help children practice counting, addition, and subtraction you can use Moose Math a free app that enables children to play math games and earn points.  Older students can use Open Middle which includes tasks to develop their understanding of math rather than memorizing facts and figures. 
Fraction Talk is another helpful website filled with interactive activities that encourage math discussions. You can ask students questions like which shapes do you see? How many shapes are shaded? And encourage them to explore complex topics to enhance their understanding of math.
Making math personal is another appealing strategy that can make students excited about your subject. You can use their favorite sports team to teach probability. Teach them how to save by letting them figure out how much to put in their piggy bank each week to buy something they love. Incorporate motivational videos and share them this will make online classes engaging and math easy.
Innovations in the digital world are making online learning and tutoring sessions interactive.
The Online Math Center equips students with a variety of tools to make lessons appealing. Our tutors utilize excellent teaching strategies along with a range of online maths games and resources to actively engage students, reach out to us to find out how.