Calculators are important tools that enhance a student's conceptual understanding of math. Given their pervasive use in classrooms today, the question that arises is can calculators improve a student's understanding of math? What are the advantages and disadvantages of introducing calculators to elementary students? What factors should teachers consider when using calculators for elementary students?
Can Calculators Advance A Student's Math Skills?
Educators are debating the use of calculators for elementary students. A few argue that calculators enable children to focus their understanding on math concepts instead of getting sidetracked by tedious calculations. 
Others claim that calculators prevent children from learning basic math and hinders their progress in understanding mathematical facts and concepts. 
They argue that calculators encourage students to try different math operations without understanding what they are really doing. In other instances, teachers claim that calculators keep students from practicing mental math.
Nevertheless, a balanced approach is vital. On their own calculators are not detrimental tools. Their widespread use in major educational programs like the International Baccalaureate and the UK's International General Certificate of Secondary Education signifies their efficiency. 
However elementary students should endeavor to practice number sense on their own to improve their mental calculations. If a child depends on calculators entirely in elementary school, he will have a hard time learning advanced mathematical concepts like primes, fractions, algorithms and arithmetic in the future. 
Teachers believe it is advisable to restrict the use of calculators in lower grades until children learn math concepts like addition, subtraction multiplication and division. That does not mean that elementary students cannot have fun using calculators from time to time or when they play math games or science projects. 
Our world is advancing technologically on an unprecedented scale. Technology is incorporated in classrooms through iPads, digital boards, projectors and even robots. It's only reasonable that simple instruments like calculators are used. 
Calculators are educational tools but they do not undermine a teacher's role in explaining math concepts and applying them. Here are a few advantages and disadvantages of calculators that teachers could potentially consider. 
Fewer Rules to Enforce

One of the benefits of allowing students to use calculators in class is that it gives them more leeway.  It encourages students to become motivated thinkers who do not solely rely on facts and figures. It allows students to apply mathematical rules and principles to make their own decisions. This creates an educational atmosphere that supports creativity. 
Makes Math Fun

Math is not necessarily an easy or enjoyable subject for all children. Using calculators can make it fun. A calculator allows students to try different problem-solving strategies and check their answers as a backup. Calculators allow students to work quickly, they reduce the time devoted to problem solving. To keep things in perspective teachers can have calculator days for children without overdoing it. 
Enables Children to Overcome Limitations

Children with limited educational abilities can benefit from using calculators as well. For example, a student might know that he needs to divide a 2-digit number by another 2-digit number if he hasn't mastered the necessary math skills, the answer would be out of reach without a calculator. A calculator is a helpful tool for children with special needs or mathematical limitations as well. It makes them overcome learning barriers and allows them to study advanced levels of math.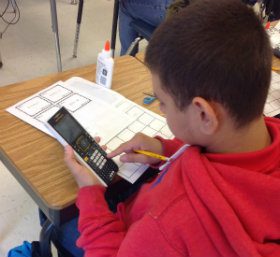 1. Restricts Mental Calculations
When teachers give students a math problem, they are not only interested in them getting the right answer. Teachers are essentially creating an experience to help their students learn. They want to give them an opportunity to think, comprehend and analyze first. When calculators are solely used to feed answers, this turns a math class into a data entry class. 
Dependency 

When students rely heavily on calculators this breeds laziness. Children who always depend on calculators for basic problem-solving skills like addition, multiplication and division may become incapable of solving basic math operations manually.
Cheating
Advanced technology made it easier for students to use calculators to cheat. Besides performing basic mathematical operations calculators can store notes, formulas and unauthorized information enabling students to easily cheat on tests.

Calculators For Elementary School
Teachers must remember that calculators are only tools to perform mathematical operations they do not replace teaching itself. When teaching children mathematical concepts, a pencil and paper are effective and appropriate tools too. They teach children to be good at math enabling them to do calculations manually. 
Choosing the right tools is part of the effective problem-solving process. It's crucial for students to learn how to do estimates before making calculations. Students must not rely on a calculator without checking if their answer is reasonable first. 
Kindergartners and first graders can also have fun with calculators. For example, they can repeatedly add 1 or subtract 1 on a calculator to learn math. Observe their response when they hit the negative numbers and let them explore what happens when you add zero to it.
…Our math tutors use a variety of educational resources to enhance a student's understanding of math. They are trained to introduce math concepts, tools and strategies to successfully enable your child to reach his full potential.
Contact us to find more!