While institutional learning is a very important aspect of a child's development, what happens in free time is also imperative to harmonious growth. Besides curriculum learning, parents should involve children in family activities that teach them new skills or deepen the understanding of those taught in school. Math skills can be fostered through strategic board games or traditional mental exercises. 
The Online Math Center has come up with 5 extracurricular activities that children and adults should use in order to enhance critical thinking and mathematical skills.
While each activity may sound easy, it's easy to increase difficulty in stages and make for a progressively more challenging experience. You can choose difficulty levels based on school grade or age, whether you want something more daunting or you just want to practice some of your math skills.
Here Are

5 Extracurricular Activities

That Enhance Math Skills: 
Jigsaw Puzzles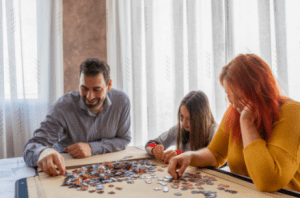 Jigsaw puzzles help develop important skills that will be useful even in adulthood, especially when it comes to answering day-to-day challenges in a proactive and calm way.
During school, children often lack patience, and solving problems can be quite a challenge for high-energy, creative, or anxious kids.
Jigsaw puzzles can offer them an independent hooray for victory and enable self-trust. You can play them online for free if you cannot get one at your local shop, but to shave off a little screen-time we recommend going with physical puzzles when at all possible. 
Developed skills while playing jigsaw puzzles: problem-solving, spatial judgment, hand-eye coordination, shape recognition, critical thinking, high concentration, patience.
Crossword Puzzles
Found in all manners of newspapers and magazines, crossword puzzles are always an interesting bonus for adult readers. Crossword puzzles are so popular, in fact, that now more than 400,000 people subscribe to the New York Times' digital crossword! But crossword puzzles aren't just for adults – thanks to their 100-year popularity, they're available in every level of difficulty imaginable, and in thousands of different topics. 
The Washington Post publishes free crossword puzzles daily, but for younger students check out Lovatts or Kids' Puzzles and Games. 
Developed skills while playing crossword puzzles: cultural knowledge, memory, socializing/asking for help, stress relief, vocabulary improvement, enriched knowledge base, self-confidence booster.
Scrabble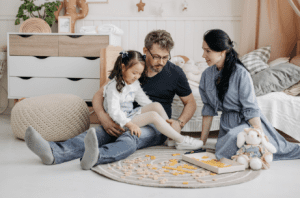 Scrabble was originally known as Criss Cross when it came out in the 1930s. It stemmed from the combination of criss-cross and anagrams, resulting in a fun word game that offered people the opportunity to socialize and keep their minds sharp during the great depression.
Anagrams and primordial word combination games can be traced back to ancient Greece, and have remained an immensely popular game type ever since.
Scrabble has also been featured in different classical novels such as Jane Austen's Emma or Tolstoy's Anna Karenina. People have also used word combination games to convey delicate messages to one another. 
If you don't own a Scrabble game, you can find them online, for free. Additionally, the online version allows players to face off against a computer or other users. 
Developed skills while playing word combination games: creativity, social bonding, personal confidence, cooperation, strategizing, pattern recognition.
Applied Geometry
Building blocks out of cardboard or wood, creating geometrical shapes out of toothpicks, and playing architectural games are fun activities that apply geometrical laws.
Applied geometry activities can go hand-in-hand with the studied math curriculum as well. This translatability means that math students can deepen their theoretical understanding of geometrical principles and see for themselves how these theorems help create reality.
There are offline and online geometry games of a wide range depending on the level of difficulty. 
Developed skills while playing geometrical games: spatial vision, calculations, critical thinking, project management, self-control.
Chess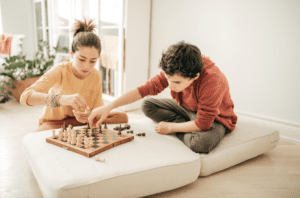 The oldest analytical game in history, chess was usually played in pairs and it is considered a noble game.
There are national and international chess competitions and there is an actual International Chess Federation. With the development of the internet, now you have the opportunity to play chess online versus a computer or other users.
It is recommended to reduce the time spent at the computer, so buying a chessboard can actually be more indicated for a family or friends social activity. 
Developed skills while playing chess: strong memory, elevated creativity, planning, stress-reliever (improves ADHD symptoms and can ease up panic attacks).
Students can find an interactive and open-minded tutoring program with the most qualified personal math teachers.
If you want to learn more about our math teaching programs, feel free to contact us right away!